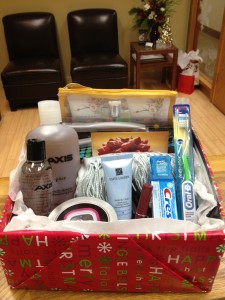 The team members at Georgia Dental decided to forego the usual Christmas present exchange and instead bring in items for a worthy cause called the Shoebox Project.  Here is some information on what it is about:
"The Shoebox Project collects and distributes gifts in the form of shoeboxes to women in shelters in Canada. Each shoebox is filled with items valued at $50 that a woman would enjoy but would not splurge on for herself in difficult times. These shoeboxes brighten the holiday season and let the women know they are special and not forgotten."
You can visit their website at: http://shoeboxproject.com/vancouver.html
We were able to put together 3 boxes for this very worthy cause
We wish everyone a very happy holiday season!